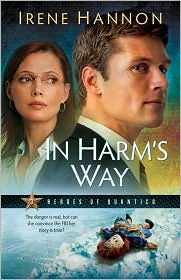 In Harm's Way
arrived at my house in March, and the next morning I finished reading it. If you're a fan of a romance with a strong suspense thread, this story is perfect. From the moment Nick and Rachel meet -- even though the circumstances are strained -- the attraction is popping. Yet the prologue sets up the suspense thread in such a way that I couldn't wait to see how the plots would intertwine.
The race to find a kidnapped baby is interlaced with Rachel and her odd reaction to a tattered Raggedy Ann doll. It's a reaction that leaves even Rachel flummoxed and uncomfortable. When she approaches the FBI, she expects to be laughed out of the office, but Nick can't treat her like one of the delusional people who usually brings stories like hers to the FBI. While he's not sure what to do with her story or the doll, he knows he's interested in Rachel. The twists and turns come quickly and left me flipping the pages until I reached the end -- and what a satisfying conclusion. This book is the third in a series but stands completely on its own. It is a great read for people who love a strong romance wrapped around a tight suspense/mystery.
Too Close to Home is another romantic suspense offering from Revell. The concept is intriguing. Samantha Cash is the FBI's secret weapon. Her methods are invisible, and she never stops until the case is closed. When missing teens begin turning up dead in a small Southern town, Samantha is assigned to help local chief Connor Wolfe find the killer. And he has two problems with that. There's her faith--in God and herself. And then there's the fact that she looks exactly like his late wife. As they get close to an answer, the case becomes personal. The killer seems to be taking an interest in Connor's 16-year-old daughter, who thinks her dad is getting way too protective. Can't a girl just have some fun? Too Close to Home ratchets up the suspense with each page, and will have readers cheering for the characters they love as justice is served and love grows even in the face of danger.
The book had a slow start for me...and I'm really not sure why I struggled to get into it. But it took me a bit to connect with the main characters and push into the mystery. Once I did, the read smoothed out. I really wanted to be enthralled with this book from page one, but couldn't quite manage it. The thing that surprised me is I connected with the teenage daughter rather than the hero or heroine. That isn't typical for me, and may be what made the book a slower one to get into. But as the plots came together and barreled toward the end, I couldn't put the book down.
Available April 2010 at your favorite bookseller from Revell, a division of Baker Publishing Group. I received both books from the publisher to review.