Any of you remember reading these books as tweens? I loved the
In Grandma's Attic
books, but my one complaint is that the print was so small I haven't been able to interest my ten year old in them.
These new editions take care of that issue, by making these wonderful short stories easy-to-read. And engaging illustrations have been added to several of the stories in each book. Each short story tells of an event in Arleta's grandmother's life. Everything from a hoop skirt to a quilt or a button serve as the launching point for a story that illustrates an important life truth.
These short chapters are easy for young readers to enjoy. But the content is great for any age. If you like Little House on the Prairie, you will equally enjoy these books.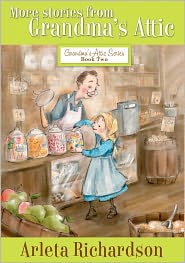 Synopsis: Remember when you were a child--when all the world was new, and the smallest object a thing of wonder? Arleta Richardson remembers: the funny wearable wire contraption hidden in the dusty attic, the century-old schoolchild's slate that belonged to Grandma, an ancient trunk filled with quilt pieces--each with its own special story--and the button basket, a miracle of mysteries. And best of all was the remarkable grandmother who made magic of all she touched, bringing the past alive as only a born storyteller could.
Here are those marvelous tales--faithfully recalled for the delight of young and old alike, a touchstone to another day when life was simpler, perhaps richer; when the treasures of family life and love were passed from generation to generation by a child's questions, and the legends that followed enlarged our faith. Recommended for ages 8 and up.
Part of the bestselling Grandma's Attic series, these charming tales—updated with delightful new illustrations—will whisk you away to another time and place. And you'll find something worth far more than any treasure or keepsake…timeless lessons of life and faith!