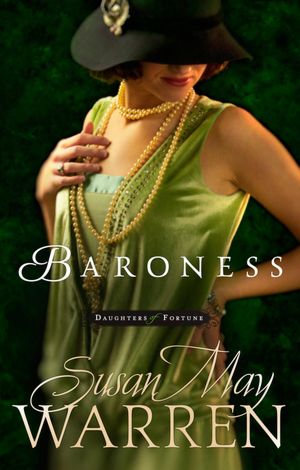 Baroness
is the latest book from Susan May Warren and it is a book that quickly pulls you in to its pages as it pulls you back to 1923.
Lilly and Rosie are cousins and heiresses. From page one they are pushing the boundaries of their confined worlds and risking much in the effort to find themselves. As I read through the pages, I cringed at many of their choices and wondered how the author would ever bring them to a happy ending...even if that was possible. In a world of privilege, they make decisions that promise to bring nothing but pain...yet Lilly and Rosie seem unable to see that. While you might think it would make the heroines unlikable, because I understood the pain in each of their paths that drove them I wanted to see how -- if -- their stories could lead to peace.
In their desperation to find love, Lilly and Rosie try on different lives, almost as if exchanging them is as simple as changing a flapper dress or string of pearls. That long for love and identity is something I think many of us can relate to...and the reality we can only find our try selves as we surrender to the King of kings.
Susan May Warren has crafted another book filled with characters that will make you ache...and long for just one more happily ever after.
Find out what the reviewers are saying here!
Expected to marry well and to take the reins of the family empire, they have their lives
planned out for them. But following their dreams -- from avant garde France, to
Broadway, to the skies in the world of barnstormers and wing-walkers -- will take all
their courage. And if they find love, will they choose freedom or happily ever
after?
Celebrate with Susan by entering her Roaring 20's Giveaway!
One grand prize winner will receive:
A Kindle Fire


Signed copies of Baroness and Heiress by Susan May Warren
But hurry, the giveaway ends on 5/7/12. The winner will be announced on 5/9/12 on Susan's blog,
Scribbles
!
Just click one of the icons below to enter! Tell your friends about Susan's giveaway on
FACEBOOK
or
TWITTER
and increase your chances of winning.