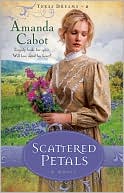 In
Scattered Petals
, author Amanda Cabot offers readers the last book in her beloved Texas Dreams series.
Longing for adventure, Priscilla Morton leaves Boston and heads for Texas, never dreaming that the adventure she seeks will leave her badly injured and her parents dead. Priscilla is determined to rebuild her life and make a home for herself in the beautiful Hill Country. But the bandits who took her parents' lives also destroyed her hope for the future.
Ranch foreman Zachary Webster knows what the future holds for him, and it's not a woman like Priscilla. She deserves a cultured East Coast gentleman, not a cowboy who's haunted by memories of his mistakes. The best thing he can do is leave her alone.
When necessity draws them together, Priscilla and Zach begin to forge a life that, like the scattered petals of her childhood, is filled with promise. But then the past intrudes, threatening their very existence.
Amanda Cabot is an accomplished author under various pen names and a popular speaker. The author of Paper Roses, she is also a charter member of Romance Writers of America, the co-founder of its New Jersey chapter, a member of the ACFW, and an avid traveler.
My thoughts: I have not finished this book yet, though I'm itching to get back to it because the author has picked an intriguing time period and created a problem that seems absolutely insurmountable for Priscilla to overcome. The writing is beautiful and pulled me in from the first page, giving me the sense I was on the stagecoach and then at the ranch with the characters. And the emotional tone that is conveyed pulled me into the characters and makes me want to know how their story will end. This is a historical romance, and a great read for those who like that genre.
Available March 2010 at your favorite bookseller from Revell, a division of Baker Publishing Group. I received a copy of the book from the publisher.