Therefore, as God's chosen people, holy and dearly loved, clothe yourselves with compassion, kindness, humility, gentleness and patience.
Colossians 3:12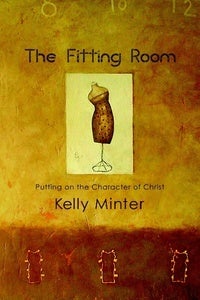 Anybody else ever get intimidated by the idea of clothing ourselves in such heady garments? You might as well tell me I have to fill my wardrobe with Armani and other designer names I could never afford. In fact, it can be down-right daunting to contemplate putting those items on. I can't pretend I have them for long before the veneer rubs off, and the real girl shines through.
It's for this predicament that
Kelly Minter
has written her latest book
the Fitting Room
. (You can join an in=process bookclub on this book right now.
Pop over here
to watch video clips and participate.)
I love her approach. First, we have to truly grasp who we are in Christ. That we are chosen by Him. That He loves us. And that we are holy through Him. Only then can we even begin to attempt to allow Him to garb us in these other items. And that's the key, letting Him pull these items on to us. They're already in our closets. Now we just need to accept them.
I love Kelly's conversational style. I can easily imagine us sitting across a bistro table at a coffeeshop talking about how to apply Colossians 3:12 to our lives. And I don't know about you, but I want more compassion, kindness, humility, gentleness and patience in my life. And I know I can't create it. I have to allow God to work it out in me.