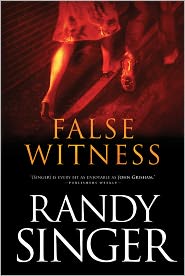 I loved
False Witness
the first time it came out. So when I learned about the re-issue, I was curious to see if I'd notice any changes or if anything major would change. Instead, even though I'd read the book before, I found myself pulled into the plot as if I read it for the first time.
Randy Singer
is a master craftsman -- he creates plots that have the pacing of the Bourne Identity while being set in the legal environment. This book is really two stories that intertwine seamlessly. Clark, the protagonist in the first part is a guy who is forced to do things no one would want to in an effort to get his wife back from the Chinese mafia. Then the heroes in the next section are three mismatched law students. Boy, did I root for them as they were up against horrible odds. This is the kind of story where every time you assume the worse thing that can happen has, you learn in another few pages you were wrong. And the story twists literally to the last page. Even though I'd read it before, I could barely keep up with all the changes. A perfectly plotted legal suspense! I can't wait for the next Randy Singer novel to release!
Randy is donating all proceeds from this book to an organization that assists those in the underground church. Another great reason to buy this book!