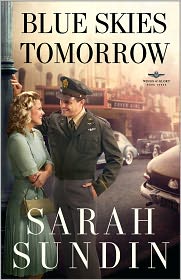 Calling all World War II fans.
Sarah Sundin
is back with another fantastic installment in her Wings of Glory series.
Blue Skies Tomorrow
focuses on the third brother, Lt. Ray Novak. A pilot like his brothers, Ray has been an instructor, but now he can't do that anymore because the army is saving those slights for those returning from the war. He's not sure he likes his new assignment, but it allows him to spend time at home where he reacquaints himself with a neighbor girl Helen Carlisle. The widow of the town hero, Helen has lost herself in the battle to live up to everybody's expectations of her.
She's lived a nightmare and in her quest to establish a life for herself and her young son, she's trapped in the quagmire of being the grieving widow. Too bad she's not really sad, especially now that Ray's back in town.
The story is richly woven with the feel of the era. I love Sarah's books
because she gets the details right. The characters are richly drawn and fully fleshed. I could feel the dilemmas and battles facing Helen and Ray. I experienced their struggles to the extent I wanted to grab Helen and take her to coffee so we could straighten out a few things. Most of all, I love the way the story illustrates that we must let go of the past and people's roles they thrust on us. We have to step into the freedom that God has for us...risky and scary as that proposition often feels. Many of us like Helen have to dig deep to find a strength we don't know we possess.
If you love rich, multi-layered historicals that ring with authenticity, then you must read this book. And one lucky commenter will receive a copy. Ray and Helen go to the movies for a date, so tell me what your favorite black and white movie is. Mine has to be It Happened One Night.
One winner will receive:
* Kindle with Wi-Fi
* Handmade vintage apron for you and a friend (see a photo below)
* Blue Skies Tomorrow (for Kindle)
To enter just click one of the icons below. But, hurry, giveaway ends on 9/10. Winner will be announced on 9/12 at Sarah Sundin's blog.
Details and official rules can be found when entering the contest.