Yesterday, I was looking through my bookshelves and realized I ended up with multiple copies of a few books that I really enjoyed. Either the winner didn't claim them or I didn't realize I had multiple copies. So today...with cold winter nights perfect for reading and spring breaks coming up soon, I want to give you an opportunity to get some new reading material. These book are wonderful and a mix of genres. So comment, comment, comment -- but be sure to let me know which book you want to read!
Before Audrey was the baker's wife, she was the pastor's wife.
Then a scandalous lie cost her husband a pastoral career. Now the two work side-by-side running a bakery, serving coffee, and baking fresh bread. But the hurt still pulls at Audrey.
Driving early one morning to the bakery, Audrey's car strikes something-or someone-at a fog-shrouded intersection. She finds a motor scooter belonging to a local teacher. Blood is everywhere, but there's no trace of a body.
Both the scooter and the blood belong to detective Jack Mansfield's wife, and he's certain that Audrey is behind Julie's disappearance.
But the case dead-ends and the detective spirals into madness. When he takes her family and some patrons hostage at the bakery, Audrey is left with a soul-damaged ex-con and a cynical teen to solve the mystery. And she'll never manage that unless she taps into something she would rather leave behind-her excruciating ability to feel other's pain.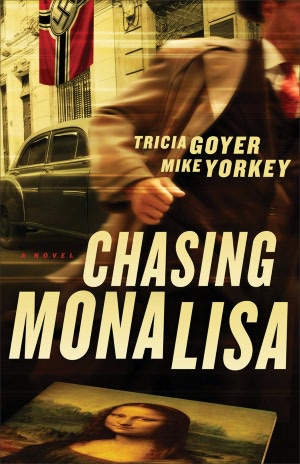 Chasing Mona Lisa is an action packed novel set in France during World War II. My friend Tricia Goyer and her coauthor do a great job bringing this time period to life. August 1944. Paris is on the cusp of liberation. As the soldiers of the Third Reich flee the Allied advance, they ravage the country and steal countless pieces of irreplaceable art. In fact, Reichsmarschall Hermann Göring will stop at nothing to claim the most valuable one of all--the Mona Lisa--as a postwar bargaining chip.
But the woman with the mysterious smile has some very determined protectors. Can Swiss OSS agents Gabi Mueller and Eric Hofstadler rescue Leonardo da Vinci's masterpiece before it falls into German hands?
With nonstop action and intrigue, Chasing Mona Lisa is sure to get your adrenaline pumping as you join the chase to save the most famous painting in the world. From war-ravaged Paris to a posh Swiss chateau, the race is on--and the runners are playing for keeps.
"A ticket to a world of mystery, heroism, and adventure. You'll find yourself sinking into a story that leaves you longing for just one more page."--Cara Putman, award-winning author of Stars in the Night and Ohio Brides
A Lasting Impression is the latest form historical author Tamera Alexander. After reading this book you'll understand why she's won so many awards. Claire Laurent's greatest aspiration is to paint something that will bring her acclaim. Yet her father insists she work as a copyist. A forger. When she's forced to flee her home, her path collides with attorney Sutton Monroe, who shows her kindness by not turning her in to authorities. But when he later refuses to come to her aid, Claire fears she's sorely misjudged him. Finding herself among the elite of Nashville society, Claire believes her dream of creating a lasting impression in the world of art is within reach--but only if her past remains hidden.
The Federal Army destroyed Sutton's home, confiscated his land, and threatens to destroy his family's honor. His determination to reclaim what belongs to him reveals a truth that may cost him more than he ever imagined--as well as the woman he loves.
Set at Nashville's historic Belmont Mansion, a stunning antebellum manor built by Adelicia Acklen, A Lasting Impression is a sweeping love story about a nation mending after war, the redemption of those wounded, and the courage of a man and woman to see themselves--and each other--for who they really are.