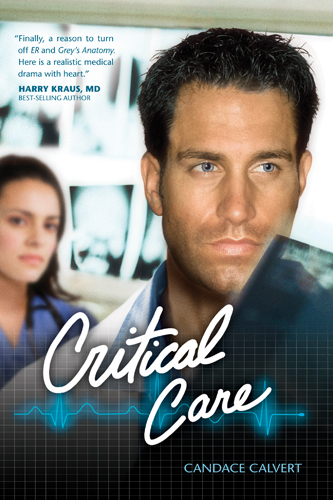 Did you enjoy watching ER? Love any of the medical dramas on TV? Then this debut novel from
Candace Calvert
is for you.
Critical Care
takes a former ER nurse Claire Avery and throws her into her worst nightmare -- back into an ER with another doctor who is constantly looking for the weak links and booting them before they can harm his patients. What he doesn't know is that she was the weak link after she watched her brother die in her former ER.
Dr. Logan Caldwell carries the responsibility for his patients in the ER. If he pushes his staff, he doesn't any harder than he pushes himself. And the staff push themselves hard. But even a finely tuned team needs help when unexpected tragedy occurs.
This book isn't suspense; instead it's a gripping romance that takes the reader deep into a field that fascinates many of us. I loved watching ER -- even though I went to law school rather than med school for many reasons -- not the least of which was the blood! In fact, it's the layers in this book that kept me reading and turning the pages as fast as I could -- not typical with a straight romance and me.
Dr. Logan Caldwell and Claire are both fully-developed characters; each have unique flaws and scars that they have to overcome before they can decide whether the sparks flying between them might be more. This book was a quick and satisfying read. I'm already anticipating Ms. Calvert's next novel. And I hope it focuses on one of the many secondary characters that are developed in Critical Care.





Critical Care, Mercy Hospital Series #1

By Candace Calvert

After her brother's tragic death fighting a fire, former trauma nurse Claire Avery can't face going back to the ER. But when she must offer staff counseling after a propane explosion in a local day care center, Claire's plan self-destructs. She's back in the ER, battling painful memories-and the handsome and surly doctor who thrives on chaos. Dr. Logan Caldwell has learned to distance himself from painful emotion. He expects his ER staff to be as tough as he is, and when hospital administration sends a beautiful but pushy education nurse to offer counseling, he'll have none of it.









Candace Calvert is an ER nurse who landed on the "other side of the stethoscope" after the equestrian accident that broke her neck and convinced her that love, laughter—and faith—are the very best medicines of all. The inspirational account of her accident and recovery appears in Chicken Soup for the Nurse's Soul and launched her writing career.