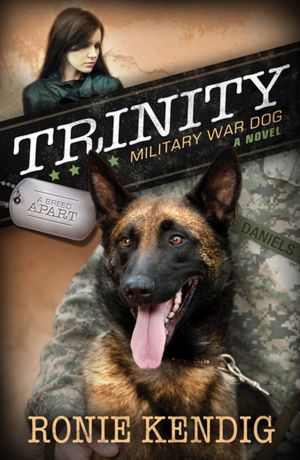 Today I want to introduce you to a couple new books by two of my friends who write great conflicted characters. Ronie Kendig shines in military set suspense -- with fantastic characters and a bit outside the box. While Sibella Giorello writes an FBI set series with an equally conflicted heroine.
Trinity combines Kendig's trademark discarded heroes with the military war dogs. The result is a book I couldn't put down and thoroughly enjoy. Kendig writes military very well, placing the reader in the middle of the action and not letting go. At the end there were a couple times I had to stretch what I thought could really happen, but I willingly did it because I wanted the characters to win. And the twists and turns were great. Combine a broken hero with a broken heroine, an international crisis on the horizon and one amazing dog and this is a great military thriller/suspense. Thoroughly enjoyed it and CANNOT wait for the next book!
Raleigh Harmon is a conflicted character that I love. In The Stars Shine Bright she's wrestling with an assignment as an undercover agent and what it means to leave an honest, truthful life. The mystery is multi-layered and complex. But it's her character that keeps me coming back. Add in wonderful writing and it's can't put down, return to it often reading. Can't wait for the next book!
These two are truly go-to authors for me. When I see one of their books, it jumps to the top of my to be read pile. They haven't let me down. And if you like suspense with varying degrees of romance, you'll enjoy these authors, too.