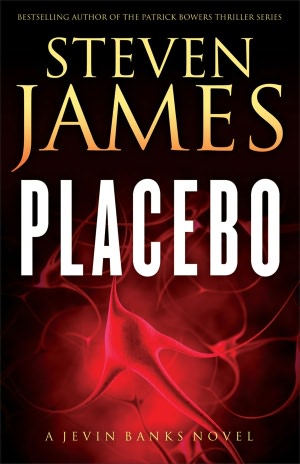 I love Steven James' Patrick Bowers series. I love the fresh take on an FBI investigator and all the sub-plots which recur and deepen through the series. When I learned he had started a new series, I was curious to read it...even as I wondered if he could live up to my high expectations.
Placebo is the start of a new series, this time with Jevin Banks as the main character. I'll admit that I was convinced I knew by page 66 exactly where the story was going -- though it didn't -- but I wouldn't be surprised if another book in the series goes where I anticipated.
Jevin Banks is an illusionist who made it big and then disappeared from the show scene when his wife and twin boys died. Now he spends his energy exposing frauds on a national television show. He thinks his trip to a retreat/research center will be one more opportunity to expose frauds. Instead, he's dropped in the center of a quest to see how our lives are interconnected through quantum
physics and how twins can communicate and possibly affect the actions of others. Jevin is dealing with grief, interacting with a great supporting cast of characters, and on the race of his life to uncover exactly what is happening. Along the way he may even open his heart to love.
Placebo has the searching questions of James' other series. It also has the intimacy with the main character that I love. As I closed the book, I felt like I knew Jevin. The beginning felt a tad slow...the thriller pacing doesn't kick in until about halfway through the book. Still this is a book I really enjoyed and I'm already anticipating the sequel.