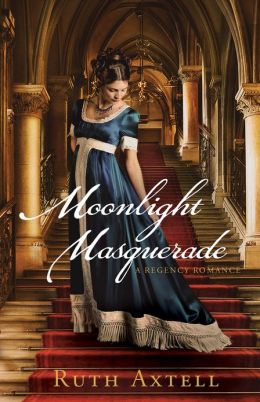 Julie Klassen turned me into a Regency fan -- I discovered I loved the time of Jane Austen's England, but alas Julie only writes one book a year. With Moonlight Masquerade, Ruth Axtell joins this time period...and does so with an eye on the details that I was transported into this tale of impossible love and forbidden longing.
Take a French emigre who is the widow of British nobility and add in a British foreign office employee who is posing as her butler and you have a recipe for a book filled with tension. Add in a dash of spying, a pinch of counter-espionage, and a dollop of intrigue stirred with a generous helping of interest in each other and it created a recipe for a book that drew me happily to its pages.
Sometimes it is hard to tell if you are the cat or the mouse.
Lady Céline Wexham seems the model British subject. French by birth but enjoying life in 1813 as a widowed English countess, she is in the unique position of being able to help those in need--or to spy for the notorious Napoleon Bonaparte.
When Rees Phillips of the British Foreign Office is sent to pose as the countess's butler and discover where her true loyalties lie, he is confident he will uncover the truth. But the longer he is in her fashionable townhouse in London's West End, the more his staunch loyalty to the Crown begins to waver as he falls under Lady Wexham's spell.
Will he find the proof he needs? And if she is a spy after all, what then will he do?