I'm in the middle of a tight deadline this month, so my posts will likely be shorter. Jamie Carie is one of my local author friends. This week I picked up her latest book, Wind Dancer. I LOVED IT! She wrote a page-turner that whisked me away to the Revolutionary War but on the frontier.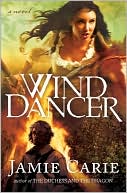 Wind Dancer
is a dramatic, pulse-pounding tale woven on the frontier of the American Revolution from
Jamie Carie
. I didn't have time to read this book, but it absolutely pulled me in. I couldn't wait to return and read more. Isabelle Renoir and her brother travel across the frontier on a mission to collect books for a priest. What should be a relatively "simple" trip turns into much more. Isabelle meets the a scout who can match her spark for spark.
This book is beautifully written with a plot that twists and turns. It has a romance that seems star-crossed yet had me absolutely rooting for the characters even when it looked like there was absolutely no way we could the pair would get together. And the spiritual thread is directed at the reader's heart in a way that is far from preachy because it is so intricately woven into the plot.
If you like historical romance and want one that is set in a fresh time period and place by an author who can take you there, this is one to buy and read over and over.